Looking for your next home away from home?
Explore properties for sale and learn more about becoming a member!
New Listings
View our new listings in the park!
Contact the Sales Office at 616-896-8315 ext 114 to schedule a walk-through of any property you would like to tour.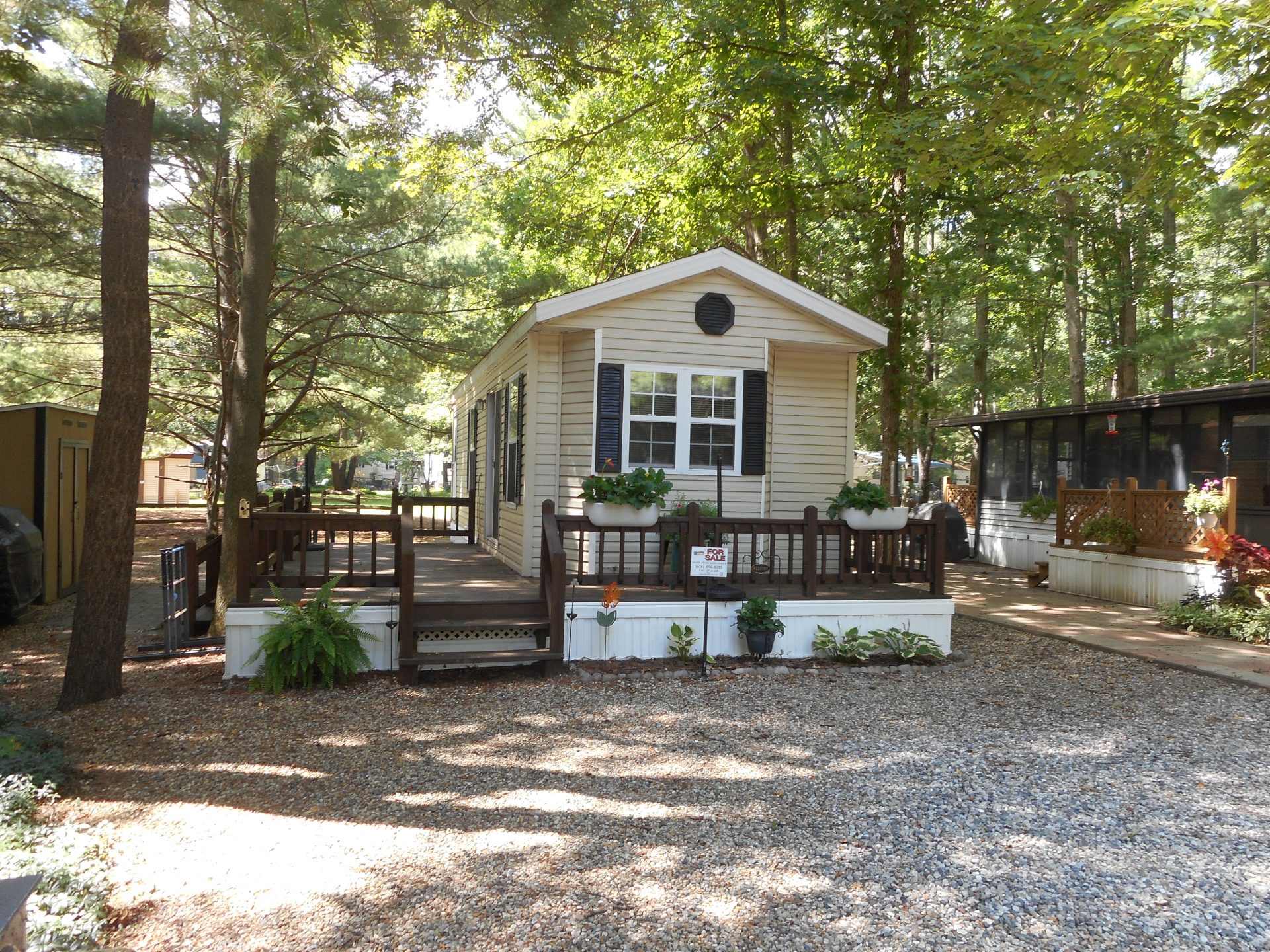 Park Models
When you purchase at Sandy Pines you become a member of a recreational community featuring more than 800 acres of family fun and amenities.
Sandy Pines offers accommodations for any lifestyle and budget, with countless activities included in your membership. Give us a call or stop by so we can meet and introduce you to our family. Ready, Set, Relax.
Frequently Asked Questions
Sandy Pines Wilderness Trails, Inc. is a member owned, Michigan non-profit, R.V. Resort and Campground which encompasses 813 acres, not far from your home and close to many tourist attractions in Southwest Michigan. Our park includes our own 262 acre "Lake Monterey", 24 hour year round security, 23 miles of paved roads, 13 heated Convenience Centers, first aid center, 4 coin operated laundromats, facilities for supplying gasoline and bottled gas, 2 waste disposal stations, outdoor pools, ice cream parlor, hardware store, beauty shop, snack shop, clothing store, open air Chapel with regular Sunday worship services and evening concerts and a summer recreational program for all ages.
Our Recreation Station which includes three heated outdoor pools, waterslide, splash pads, arcade center, fitness center, snack shop, and all purpose room. There is also an
pavilion and three open air pavilions. Enjoy our many playground areas, tot center, lighted tennis courts, basketball, shuffleboard, horseshoe, bocce ball, volleyball courts, miniature golf, disc golf, soccer field, ropes course, remote control car tracks, baseball diamond, adjacent 18 hole golf course, nature/fitness trails, snowmobile trails and a dog park. Go fishing, water skiing, swimming, cross country skiing, bicycling or ice skating. Relax with cable television, wireless internet or a book from the library. Sandy Pines also offers camping sites and vacation rentals.
While the park is open year round for the enjoyment of our members and their guests, water is on to the campsites from April 15th to October 15th (weather permitting). The balance of the year our facilities are placed in "winter mode". Sandy Pines is licensed by the State of Michigan as a campground, and accordingly, may not be used as a permanent residence. Permanent residency is defined as greater than 180 days.
Only members and their associates (their spouse, children and parents), their invited guests, and campers. The member must be present in the park when they have guests. The member remains responsible and is held liable for the actions of their associates and guests. Membership cards are available to the member and their associates and are not transferable. The card can be used only by the person whose name appears on the card.
Yes, all members and their associate members must affix a membership sticker on any vehicle used to enter the Park. All guests must be signed in, by the member, in order for them to be allowed in the Park. If you are interested in looking at our park, please contact a sales representative to make an appointment for a tour.
Make an appointment with one of our sales representatives who can show you the wonders of Sandy Pines. Once you have chosen a site, you will be asked for a deposit, complete a Membership Application, and consent to a background check. You will be notified of the date to come to the sales office to finalize the purchase of your membership.
The answer depends on the site you select for your membership. Please refer to our current listings. Contact a sales representative who will be happy to answer all of your questions in this regard.
Each member pays an annual membership dues which may include capital contributions and special assessments. This money is used to maintain and improve the park property, and to provide programs and services. Members also pay for their electric use, a unit tax required by the State of Michigan, and any other services purchased.
No, the campsite like all other facilities belongs to the park. As members of Sandy Pines, you have a membership certificate which assures each member the right to use resort facilities including an assigned campsite. A membership is not an interest in real estate.
No. The park offers a holding tank service and two sewer dump stations. Gray water can be disposed of at the campsite in a seepage pit built as specified in the handbook/rulebook.
No. Only the member and their associates (spouse, children and parents) may use the campsite. Other family members and friends are considered guests and the member must sign them in and be present during their stay.
Yes. The resort has a recreation department responsible for providing recreational opportunities for all ages. Please refer to our online events calendar and weekend flyer for more details.
Oh yes! There is no way we can cram all of the goodies here. Sandy Pines is a weekend hide-a-way or a private lifetime resort where the fun and relaxation never stop. You will have to see for yourself all the advantages this resort offers. You will be pleasantly surprised. Please spend some time on our website.  For more information, contact our Sales Department, 616-896-8315, ext. 113 or 114.
Sales Contacts
Sales Department
(616) 896-8315 ext 118
Office Hours
Monday-Friday
8 am – 4pm
Saturday (Seasonally)
8 am – 4pm
We are not able to provide day passes as we are a gated community.