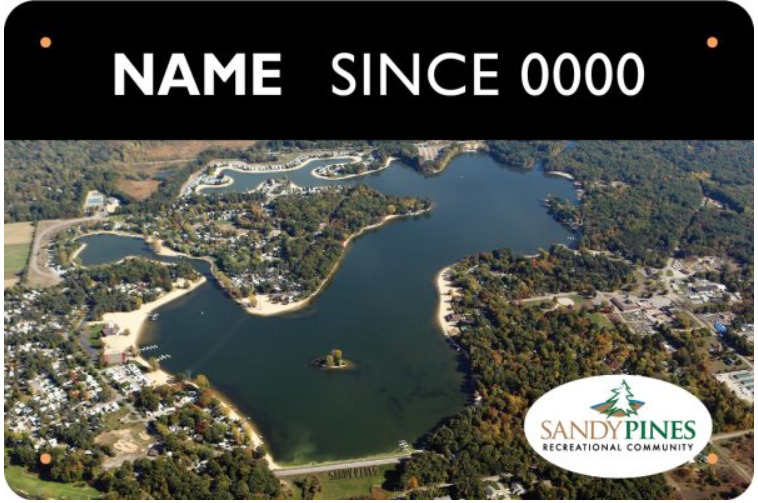 Member Service August News
By: Sue Flowers
Member Handbook & Sandy Pines Website
We always recommend Members and prospective Members read the Handbook and explore the website.  We are happy to answer your questions, but what you need to know about your responsibilities as Members is in the Handbook; it's very important.  Yes, there are some additional guidelines that are Administrative; that is the job of Park Leadership.  When prospective buyers come into Member Service, one of the first things we explain is that this is a private park, a Membership, and that what they need to know before becoming a Member is available in the Handbook on the website.  If you are self-selling your site, please let your Buyers know about the Handbook.
Member Signs
We are behind on Member Sign orders – we apologize.  We will soon be generating a new order. There are many beautiful designs from which to choose online at  SandyPines.com/MemberSigns.
Hold My Stickers!
If you know you want your stickers held next season you may tell us now or before you leave for the season and we will fill the form field.  This prevents your stickers from being lost in the mail.  They are placed in an envelope and sent to the Main Gate so that you may pick them up when you arrive in the Spring.  You will still have the opportunity to decide during the Renewal period, January 15 to March 15, 2020 to have your stickers held.  Thank you.
Annual Election
Absentee ballots are available at the Member Service Office 30 days before the election.  Absentee ballots must be mailed or deposited in the ballot box at the Member Service Office no later than 4:00 pm on Friday, August 21, 2020. Photo ID is required for Member identification – i.e. Sandy Pines photo member ID card; driver's license, etc. For voting purposes, each membership, whether owned individually or jointly, shall be entitled to only one vote. Members with account balances 30 (or more) days past due will not be able to vote until their account is up to date.
Winterizations
We start taking winterization orders on Monday, August 24th. If you've been winterized by us in the past, we'll e-mail or mail your order form which you can complete and return to us to reserve your winterization. Remember:  We'll need you to map five specific points on your form per the instructions. Maps don't have to be fancy – we simply need the designated points labeled.  Winterization departure dates on or before September 30th are $80 and your keys must be in the office by September 30th to get the discount. Winterizations on or after October 1st are $100. The latest departure date is October 15th. We are not able to winterize trailers that have hot water heaters located on their porch or trailers that share a water line.
Cable & Internet
Thank you for your patience, as together we have struggled with cable and internet issues this season.  Please know that we do understand your frustration, as we also experience it.  Also know that the technicians who work in our park are not the cause of the issues with consistent service and ability to get appointments – the "boots on the ground" do a great job.
Some Members are set to receive new modems, some are not.  This is because some modems already in the park are compatible with the new speeds to which we have been upgraded.  Our new contract provides 200 mbps download and 10 mpbs upload speeds; the previous was 60 DS and 4 US.  We are working as quickly as possible on modem swaps, but due to the required tracking, it takes tremendous attention to detail.  With the volume of calls and emails we are receiving, we must take our time to get it right.  Thank you for your patience.
One small thing you can do to try and help control line noise is to unplug your electronics and cap unused lines and splitters at the end of the season, especially, if you disconnect and take your TVs and routers home.  Those exposed ports and pins can cause line noise.  Capping isn't a surety that noise won't happen, but capping can help.  Caps will be available at Member Service at no cost to you.  We'll continue to help trouble shoot as much as possible.
Pump Outs
If you think your pump out may have been missed, the first step is to check your tag to see if it was punched.  If punched, you did receive a pump out.  Whether by indicator or visual check, you see that your tank still seems full, you may have a clog.  You can take a stick and gently try to loosen debris – you will hear it go down.  If this does not work, you may need to call Vacationland.  Mistakes do happen, but please make sure you've checked all the above before calling Member Service or Maintenance.  These are the first questions we will ask you.
If you need an Emergency Pump Out, please remember, if needed the same day, you cannot book EPOs online – you must call Member Service or leave a message on the EPO line at extension 111.  Emergency Pump Outs are done at the earliest, after the regular PO route, but most often between 1pm to 2pm.  We cannot guarantee an EPO if you wait until 2pm to call.  The crew is generally finishing, washing the trucks and cleaning up for the day.  Thank you!