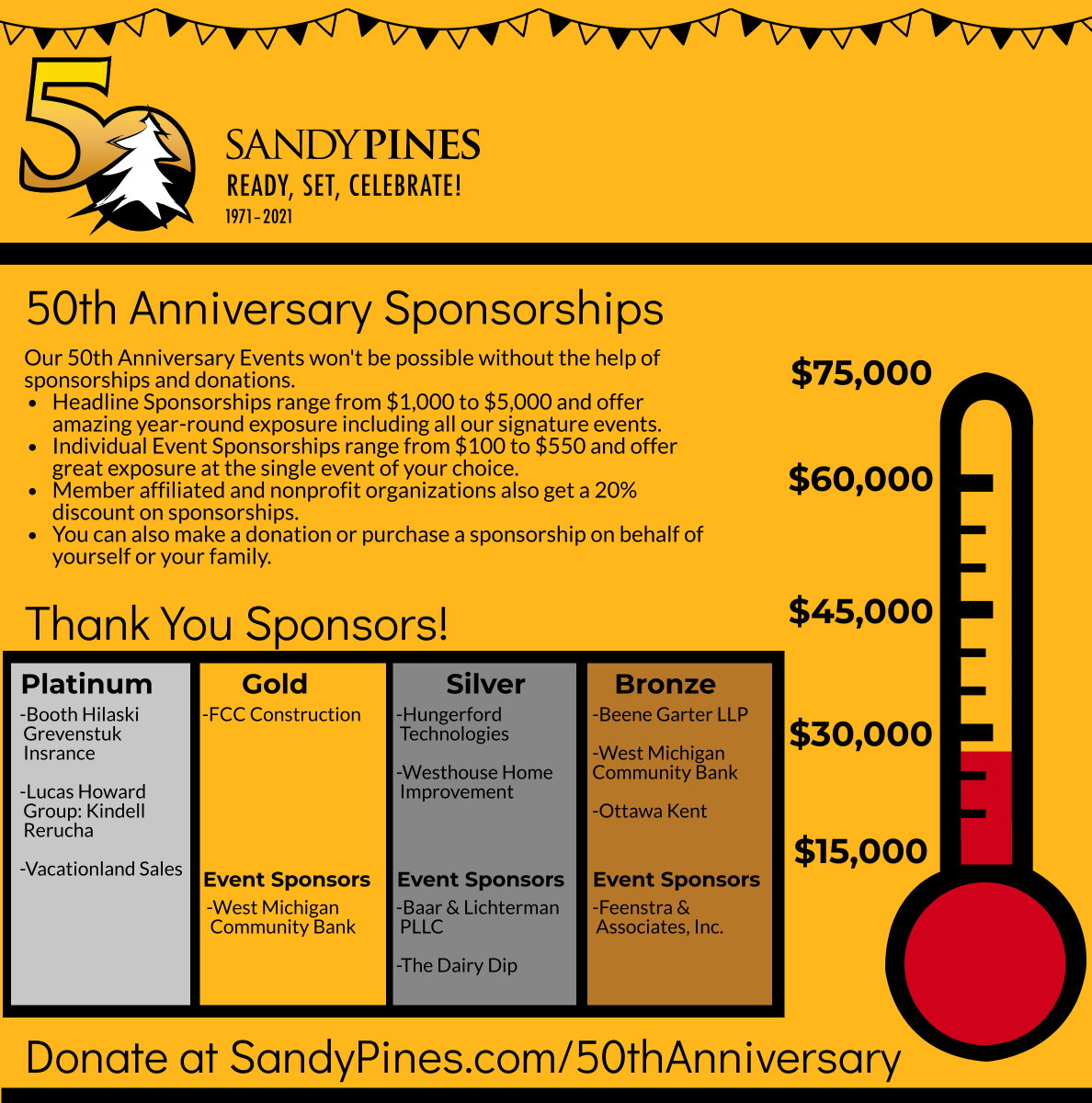 February Park President News
By: Jeff Sweitzer
Park President
jeff@sandypines.com
Happy Valentine's Day and welcome to February 2021! We are less than 90 days away from an exciting 50th Anniversary season opening. We hope all of you are as excited about this year as we are. We still have lots to work on before the park fills with fun, splashing water, laughter, campfires and gatherings at everyone's Happy Place. I would like to thank all our members, Board of Directors, and staff for your patience, grace and flexibility (again) while we deal with COVID-19 orders limiting our operations. The staff did an excellent job keeping up with operations working remotely 4 days and on-site 1 day a week. The middle of January the remote work order was extended to February 1, 2021 unless work could no longer be completed remotely. Since we have been working remotely since November 2020 when the first orders were communicated, we have fallen behind on our strategic planning and executing our plans to be ready for a regular season opening. This results in the current operations schedule announced that staff will be working 3 days remotely and 2 days on-site. The team continues to do an excellent job "rolling with the punches" and adapting to the many, late developing changes by the state.
Communications & Sales Staff
Before we dive into the upcoming items the team will be focusing on this month, we would like to express a huge Thank You to Josh Janowiak our Communications Director. As many of you know, Josh and his lovely wife Courtney welcomed their first child Rosemary into the world this past summer. We are losing a dear friend and co-worker as Josh has announced he will be leaving Sandy Pines to focus on his number one priority, Rosie. Josh has done an excellent job setting a great foundation for our marketing and communications here at Sandy Pines over the last several years. His focus and dedication to improving communications and taking it to the next level has benefited our entire community. Josh will continue in a part-time capacity until we have a new Communications person on board and fully transitioned. We thank Josh and wish him the best in raising Rosie full time! We will miss you Josh!
While we are wishing Josh, Courtney, and Rosie good luck, we are welcoming our new Communications Manager to Sandy Pines and Lake Monterey Golf Course. Please welcome Ian Mitchell to our community and family. Ian started January 25, 2021. He comes to us with much experience in design, communication, and marketing. Ian is accepting the challenge to build on the foundation Josh started and take it to the next level. We are excited to have Ian. Josh and Ian will be transitioning the entire month of February.
We are also excited to communicate a new Salesperson and changes taking place in our Sales Department. Be sure to read Liz's article for these exciting changes taking place in time to better serve you in 2021.
Strategic Planning
Strategic Planning was complete at the end of January with a focus on goal setting and highlighting projects, processes and procedures that need to be completed this year.
The team identified over 40 Things To Be Done this upcoming season. Most of the focus centered around out IT system upgrade, improving our processes and procedures as well as delivering on many identified projects such as the Cart Bridge, Lake Study Committee Projects, more PSO patrolling, lake safety patrolling, relaunching the Sales Department and delivering on our 50th Anniversary celebration.
While identifying those things we need to do in 2021, the team also discussed what we need to Stop Doing in 2021. Here the team identified 17 things such as stop making exceptions to rules in our Handbook, stop being pulled down by negativity or rumors and stop being inefficient. The last item will focus on reducing the vast amount of paper pushing being done throughout the various departments. The team is excited to see a new IT solution to help avoid the paper!
Lastly, we focused on keeping the team motivated, staying positive and remaining a team. We are blessed with an excellent team that spends more time with each other than we do with our own families during the season. We discussed ways to improve our work environment which will spill over to improving how we service our members. I was proud of our team addressing these topics as well as having hard discussions at times on what we need to do to stay together. Next steps will be official goals being set this month.
North Shore Center
Our FEMA Building continues to progress nicely. Walls are painted, landscaping is in process and we are still targeting the end of March 2021 for occupancy. In January our FEMA committee reviewed furniture supplier options, designs, products and costs. The team selected Kentwood Office Furniture to supply our furniture. We expect to have furniture in place end of March or the beginning of April just in time for our season opening. Stay tuned for a Grand Opening event.
Cart Bridge Project
The Cart Bridge Project is also proceeding. A design is complete with the board reviewing this month. Once reviewed by the board and our Sandy Pines project team, we will submit the design for county approval. Consumers Energy was notified to begin adjusting power lines and poles near the crossing area in prep for the bridge placement. We are planning on making a supplier selection this month to complete the project to meet the MDOT and County approved design. Our target completion remains May 2021. However, steel supply and available contractors may push our project later into the season or even past our 2021 summer season. If the project pushes into the midst of our season, we are reviewing alternative cart path routing from Phase 3 to Phase 6.
IT Assessment
Sandy Pines partnered with DPT Solutions to develop an IT Roadmap for cost, timing and system upgrade needs. The Discovery Phase is complete with DPT having met with all departments on their needs, wishes, process and suggestions on how to improve member experience and staff efficiency. This month DPT will present their roadmap to be reviewed by the administration team, IT assessment team and Technology Committee. Once reviewed by this group, it will be forwarded to the Board for review. We plan to communicate during our March 2021 Board of Directors meeting.
Finances
During the month of January, Kimberly Williams and I completed a review of our Sandy Pines and Lake Monterey Golf Course financial statements with our external Beene Garter team. We had an excellent 2020 despite a global pandemic. We thank our members, staff, board and all who made this possible. Please review Kimberly Williams' Finance article for more information.
50th Anniversary Sponsorships
Lastly, we are excited about all the above activity that is taking place here at Sandy Pines and Lake Monterey Golf Course. We are really excited about our 50th Anniversary celebration events. The committee is kicking into high gear to give us a season to remember. Our sponsorships increased from last month's $17,000 (22.6%) to $26,000 (34.7%) of our goal of $75,000. Please see Josh's section on sponsorships and the special Thank You to members, contractors and suppliers of Sandy Pines and Lake Monterey Golf Course who are subsidizing these events to make it happen for our community.
We are counting down to an exciting 2021 season. We thank God for all He continues to do for us at our Happy Place! All things are through Him!
God Bless!