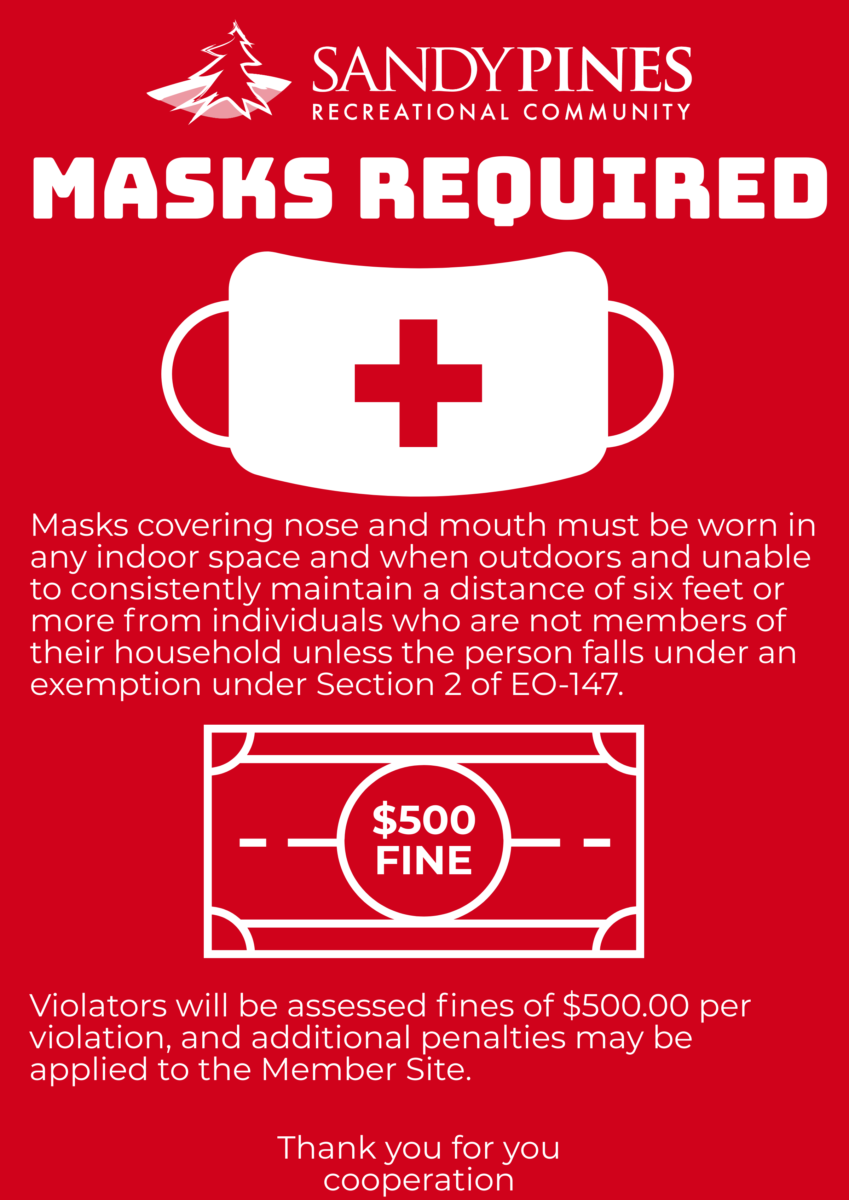 Executive Order 147 Mask Requirements
To our valued Sandy Pines Members and Community. Thank you to all who continue to support us.  We received positive feedback, responses and results from our July 4th communication.  Thank you.  It is critical that Sandy Pines and Lake Monterey Golf Course continue to gain the confidence of our State, County, and local officials. We have worked hard with our State, County, and local officials to continue as many normal operations as possible for our wonderful park and golf course. We wanted to provide an update regarding the most recent Executive Order from the State of Michigan and the Governor's office.  As with any plan, its success is based on our entire community and members implementing it safely.
Effective July 13, 2020
Members will see new signage posted throughout the park communicating the requirements of the State of Michigan for EO147.  Masks covering nose and mouth must be worn in any indoor public space and when outdoors when unable to consistently maintain a distance of six feet or more from individuals who are not members of their household unless the person falls under an exemption under Section 2 of EO-147.
Violators could be assessed fines of $500.00 per violation, and additional penalties may be applied to the Member Site.  Posted signage should not be removed. We will continue to have the Administration and PSO Buildings closed to the public while seeing Members by appointment only.
Please continue to visit our website at SandyPines.com/COVID19.  For answers not found online, please contact our Member Service Office at 616-896-8315 x-100 or Public Safety Office at Security@SandyPines.com  at 616.896.9006.  I'm also available to help with any questions you may have by email or phone. We will get through this by working together.  Thank you for your grace, patience and understanding as we work together in the best interests of Sandy Pines.
God bless and stay safe!

Jeff Sweitzer
Park President
Sandy Pines Recreational Community
Jeff@sandypines.com