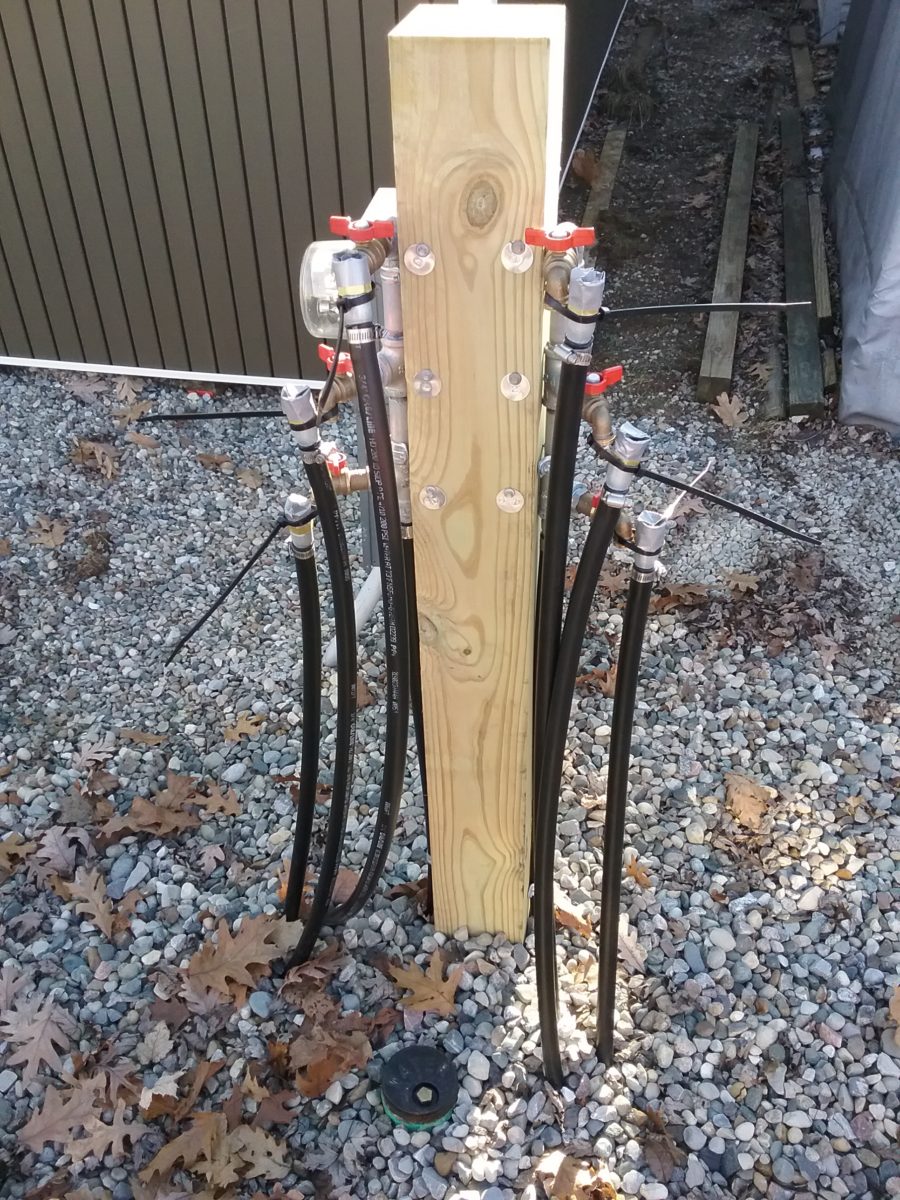 As you return this spring to reconnect water to you trailer, we'd like to offer some tips for getting things back up and running for the season. First and foremost, be 100% sure you're connecting the correct hose to the water faucet (water riser) near the road. Ideally you marked your hose a the end of the season and there is not doubt as to which hose runs to your trailer. If not and you reconnect the wrong hose, you're in danger of flooding your neighbors trailer. The following are the proper steps for reconnecting the water supply hose to your trailer and getting things back up and running for the season.
Turning Water Back On
Replace water filter without the cartridge.
Turn on water at the road (riser)  Make sure it's your hose!
Faucets in trailer will be open.
Hot water heater is open
When lines are flushed (running clear) Turn Off water.
Close drain valve on Hot Water heater.
Put a New filter in cartridge and reconnect.
Turn Off all faucets.
Turn on water.
Hot Water Heater
Complete flushing of water system.
Screw in (or close) drain plug left in front of heater.
Close drain valve.
Turn on Gas.
Follow directions on heater to light.
Volunteer Troubleshooters
If you are still having trouble or are new member reconnecting your water hose for the first time, we have a list of member volunteers that are willing help you out. Due to COVID-19 these volunteers will not be able to visit your site to physically help you but they are all willing to answer questions and connect by video to help with troubleshooting issues.
When contacting volunteers, please text your name and your issue and they'll reply back with the best way to connect and help.
616-808-1470 Kindell Rerucha
269-290-3967 Ellen Carpenter
269-377-9891  Kelly Johnson
586-944-9540 Bryan St. Onge
813-748-9275  Art Van Ast
Thank you to these awesome volunteers for stepping forward to help out this spring!
Additional Information
If you are experiencing issues with the water supply and faucets on the water risers by the road, please contact our Maintenance Department.
If you were winterized by the Sandy Pines Maintenance Team, additional winterization details are available at: