Pump outs are available only while water is on, which is typically between April 15 and October 15. Saturday Emergency Pump Outs are only available between Memorial & Labor Day Weekends. Pump outs are not offered on Sundays. Emergency pump outs are those ordered on the same day or those ordered in advance but not on your regularly scheduled phase day.
Monday            Phase 1 (1-467)
Tuesday            Phase 4 (N)
Wednesday      Phase 5 (K)
Thursday          Phase 3 (988-1427)
Thursday          Phase 6 (D)
Friday               Phase 2 (468-987)
$14.00     Single Pump Out
$28.00     Single Emergency Pump Out
$21.00     Double Tank Pump Out
$40.00     Double Tank Emergency Pump Out
Thursday, April 15 - Friday, Oct 15 Water turned on & off (weather permitting)
Saturday, May 15 - Saturday, Sept 11 Saturday emergency pump outs offered
Monday, Oct 18 - Friday, Oct 22 Last week of normal season pump outs if prescheduled
Wednesday, Oct 27 Last emergency season pump out if prescheduled
Campers are required to pre-pay for pump out services at either Member Service or at the Main Gate.
Camper pump outs are a flat rate of $28.00 which includes both black and gray water tanks.  There is no discount for a request of only one tank.
ORDERING MEMBER PUMP OUTS
Pump outs can be ordered online through the Member Web Access Portal on any smart phone, tablet, computer or park kiosk located at Member Service and Public Safety at the Main and Phase 3 gates.
Online orders must be placed by 11:45 pm for next day service.
Pump outs outside of your normal phase day can be ordered online in advance but will be billed at the emergency pump out rate.
Pump outs are performed between 6:00 am and 2:00 pm Monday through Friday (and Saturdays while offered.) We cannot guarantee set pump out times. We do not offer Sunday pump out service.
We reserve the right to refuse service if we cannot access your holding tank valve in a safe manner.
Emergency pump outs are those performed on dates out of your scheduled phase (even if they're ordered in advance) and those ordered the same day.
Pump outs outside of your normal phase day can be ordered online in advance but will be billed at the emergency pump out rate of $28.00. Online orders must be placed by 11:45 pm for next day service.
For same day pump outs you'll need to order in person at Member Service or call 616-896-8315, ext. 111 and leave a message (Emergency Pump Out Line). Same day emergency pump outs must be ordered by 1:15 pm. Please leave your name, site number and a contact number.
Plans are offered at a discounted rate of $12.00 per pump out and have been labeled to help define the terms. Plan dates cannot be moved or substituted, thus plans aren't the best option for everyone. You can schedule additional pump outs at the regular price of $14.00 each to supplement any plan.
Plans are billed in full on April 1 with your annual renewal. Weekly Plan E and Bi-Weekly Plan F are the only plans that cover the full season. If you opt for other plans and want additional regular priced pump outs ($14), either before your plan starts or after it ends, you'll need to schedule in advance online or by calling Member Service.
Plan Dates                  Plan                          # of Pumps          Price
April 19 to Oct 22        Plan E      Full Plan             27           $324.00
April 26 to Sept 10      Plan A      Labor Day          20           $240.00
May 3 to Oct 8             Plan C     Flea Mkt Plan       23            $276.00
May 24 to Sept 10       Plan G     Holiday Plan         16             $192.00
Plan Dates                   Plan                         # of Pumps         Price
April 19 to Oct 22         Plan F      Full Plan              14           $168.00
April 19 to Sept 24       Plan D     Sept Plan              12           $144.00
May 10 to Oct 1            Plan B     Late Start             12           $144.00
May 24 to Sept 17        Plan H     Holiday Plan          9           $108.00
SCHEDULING ONLINE PUMP OUTS
1-Login to Member Web Access
2-Select the Pumpouts Tab
Once in the pump out screen, you'll see all your  scheduled pump outs. Those reserved online will be noted. Those not noted or billed are part of a pump out plan.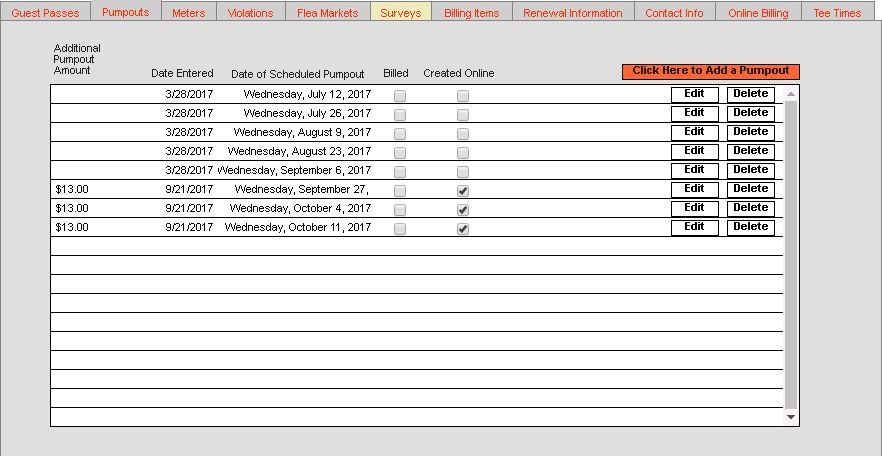 3-Order & Confirm Pump Out
Select your pump out date, hit submit and you're all set! Pump Outs are billed on the date they are performed so you can always cancel pump outs a day or more in advance and not be charged for the service.  Cancellation does not apply to Pump Out Plans. Plans are billed in total with Renewals in April and cannot be cancelled.
Pump Out tips, tricks & troubleshooting
If you think you've been missed, please check your pump out tag. Drivers punch your tag every time a pump out is provided. If the tag hasn't been punched, please wait until 12:00 pm before calling Member Service as the schedule may be busy that day. If the tag is punched and the driver has to return, the second trip will be billed as an additional emergency pump out. A truck driving past does not mean you were missed; the driver may need to empty their tank to continue the route.
While tanks are technically pumped, our trucks provide only a small amount of suction. Tanks are mainly drained by gravity which means it's common to see an inch or two of solid or liquid in your tank after being pumped out. Some trailers have gauges which can also be misleading as toilet paper and solids occasionally get caught on the sensors and mislead you to think the tank is nearly full when it is mostly empty.
Clogged tanks are very common and misleading. Often solids and toilet paper collect in the tube connecting the toilet to the tank. When you look down the tube you see solid and liquid thinking you haven't been pumped out. If your tag has been punched, you very well may have been pumped out successfully but you can't see down into your tank since your tube is clogged. In this case it is best to shut off the water supply to the toilet, step on the pedal to open the valve and use a broom stick to gently dislodge any clogs in the tube. If this is not successful, there is nothing our pump out crew can do; we recommend contacting Vacationland 616-896-8371.
If you recently had a clog and wanted to try flushing your holding tank have 1 - 2 gallons of water ready to dump when the driver arrives. Please inform the driver that you will be dumping water in while he is pumping the tank.  The force of a bucketful of water is much more effective than running water into the tank during the pump out.  Do not run water into the toilet while the driver is pumping.  This can be hazardous to the driver if he is unaware of it & it may cause a spill on the ground.  Wait until he is ready. Please do not use garden hoses while the driver is pumping. This causes a hold up.  Wands are acceptable if you have them ready at the time of your pump out.
All emergency pumpouts will be done after all scheduled pumpout routes are done.
If you have questions or concerns, ask your driver. He will gladly answer.
Mistakes do happen, if you aren't pumped out by noon on your scheduled day, please call Member Service before 2:00 pm & a driver will be sent out ASAP .
RV grade toilet paper and holding tank solutions and tablets are available at the Sandy Pines Park & Garden store. RV grade toilet paper dissolves better than traditional toilet paper which can cause clogs. Holding tank solutions and tablets can be used help control odors and aid in the break down of solids.
Please make sure your holding tank valve is easy and safe for our drivers to access. If your valve is not easily or safely accessible (ie. blocked by skirting or too far under the trailer) you will be notified that we cannot resume service until the problem is remedied.
P&G Closed for Season
Sept. 26, 2020
Camping Rentals End
September 28, 2020
Color the Pines Camo
October 2-4, 2020
Allegan County Food Drive
August 27-October 15, 2020