February Communications News
By: Josh Janowiak
Director of Communications
josh@sandypines.com
Love, Love, Love
February brings us Valentine's Day and I believe no matter your current relationship status, we could all use a little more love these days, so feel free to spread it (responsibly, due to COVID) to those around you.
While we're on the topic, I do have a new love in my life, that of our daughter Rosemary Joy. She arrived two and a half months early this past June (at 2lbs 10oz) and spent 90 days in the NICU. Since her release, she has been a little rock star packing on the pounds. She's super chubby, sensationally squeezable, and amazingly cuddly. As two full time working professionals, my wife and I have been talking for months about how we could swing caring for her at home to avoid putting her into childcare during the pandemic. Since I have always secretly wanted to be a stay-at-home husband, this looked like the best opportunity to realize my dream.
I met and conversed with Jeff at length about our plan. We even came up with few possible part-time options for me to remain on the staff, but in the end, we decided it was in my best interest to stay at home and for Sandy Pines to find a full-time replacement for my position. I cannot thank Jeff enough, along with Gene, Kim, Jamie, and all our team that has been accommodating with my wife and I during this journey. Two years ago, to the date, my wife and I also fostered a pair of two-year-old twins. Again, the entire team was supportive of our journey and worked with us being flexible when needed. Sandy Pines Mission is focused on family and I can proudly say those values carry through to our company culture and our staff.
For my next chapter, I'll continue working in the communications and marketing field as a freelance/contractor until little Rosie goes off to school. As a passionate podcaster, I recently started a podcasting, voice over, and marketing consulting business called Podcast Story Pros. If you're ever curious what I'm up to, check out PodcastStoryPros.com. I have also offered to assist Sandy Pines when and if needed on a project basis, so this may not be the last you see of me.
I will miss but will never forget my time at Sandy Pines. From my start at Member Service to pioneering the start of a new Communications Department. I'm proud of the professional accomplishments but most appreciative of the friendships that were made with so many on our team and in the community. Thank you to all of you that make Sandy Pines such a wonderful community in which to play and work!
Ready, Set, Celebrate!
Our 50th Anniversary Year is officially underway, and our theme is Ready, Set, Celebrate! In case you haven't noticed, or logo and colors have changed to gold & black in honor of our Golden Anniversary. While many events won't happen until the 2021 summer season, we'll be celebrating virtually online with some new videos, vintage photos, stories, history, and more. Keep an eye out on Facebook, Instagram, and YouTube for vintage photos, videos, memories, and contests celebrating our history.
Online Store
We have many limited edition 50th Anniversary items for sale in our Online Store which is open the first two weeks of every month. We also have many of our standard Sandy Pines logo wear items and soon we'll have some items for sale with our vintage logo. Don't forget our special 50th Anniversary Edition 2021 Calendars that come complete with all our events already scheduled for you.
All Online Store profits for 2020 & 2021 will go toward 50th Anniversary fundraising efforts so when you shop in the store, you're supporting the 50th Anniversary Celebration. Shop now at SandyPine.com/Store
50th Anniversary Fundraising
Jeff mentioned our goal of raising $75,000 to subsidize all the great events we have scheduled for our 50th Anniversary. Without these funds, all our 50th events simply won't be possible. The majority of that goal is intended to come from business sponsorships and donations.
Sponsorship Packages
Headliner Sponsorship Packages range from $1,000 to $5,000 and offer amazing exposure for organizations including name & logo recognition online, in print, and at events. Gold & Platinum Sponsors also get TV ads and onsite exposure opportunities at all 50th Anniversary Events.
Individual Event Sponsorships range from $100 to $550 and offer similar exposure at the single event of your choice. Member affiliated and nonprofit organizations also get a 20% discount on sponsorships. These are great rates for exposure to our highly engaged and active community members.
You can also make a donation or purchase a sponsorship on behalf of yourself or your family. We'd love to thank you publicly for your contribution, but we'd glad to keep you anonymous if you'd prefer.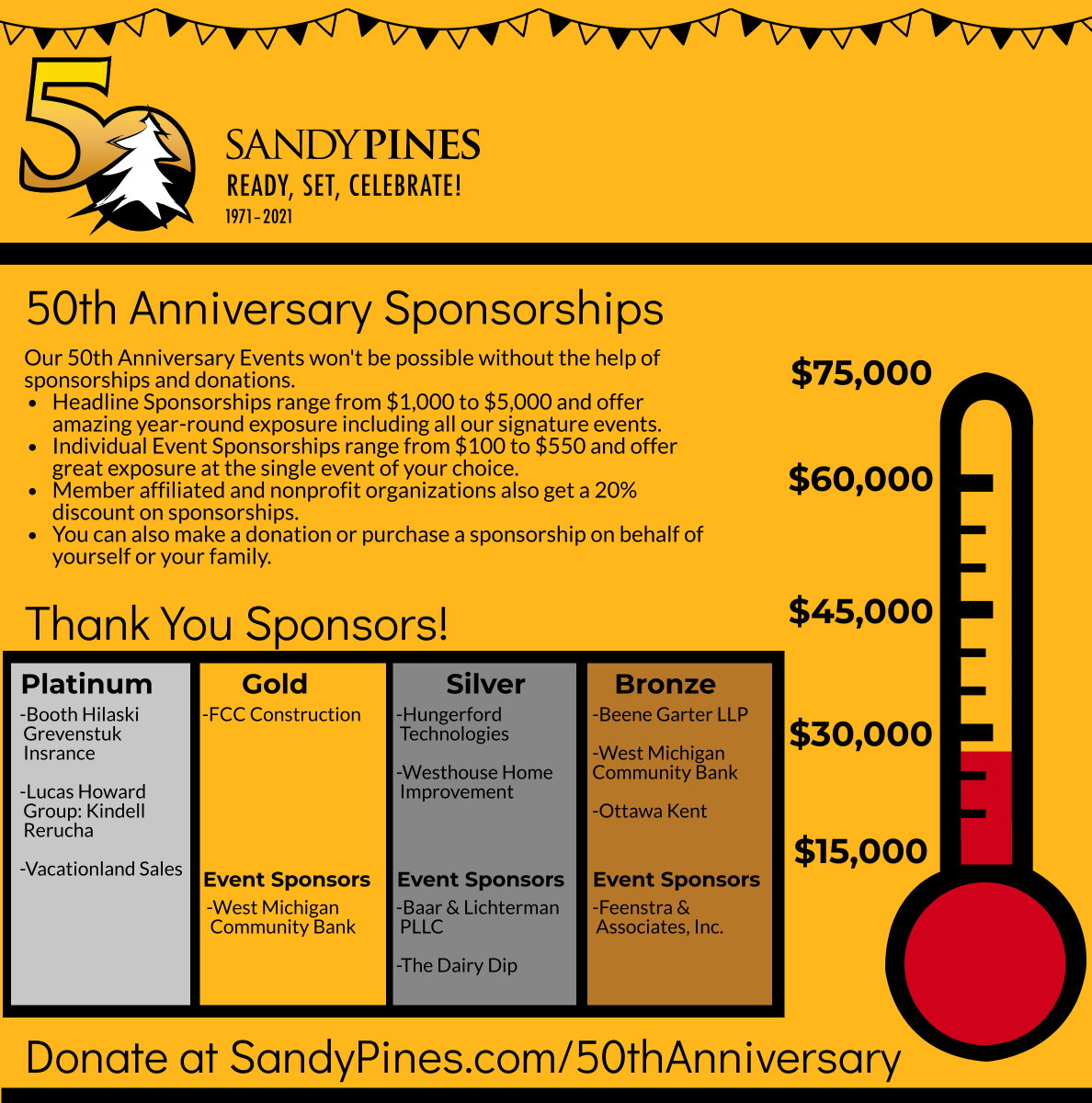 Thank You Sponsors!
Our sponsorships increased from $17,000 in January, to $26,000 in February. Thank you to all our new partners for your support! We're now at 34.7 % or our goal.
Platinum Headline Sponsors
Booth, Hilaski & Grevenstuk Insurance
Lucas Howard Group
Vacationland Sales
Gold Headline Sponsors
Silver Headline Sponsors
Westhouse Home Improvement
Hungerford Technologies
Bronze Headline Sponsors
Beene Garter LLP
West MI Community Bank
Ottawa Kent
Gold Event Sponsors
Silver Event Sponsors
Baar & Lichterman PLLC
The Dairy Dip
Bronze Event Sponsors
For sponsorship packages and additional information, visit SandyPines.com/Partnerships. For questions, to reserve your sponsorship, or make a donation, contact communications@sandypines.com or by calling 616-896-8316 x112.