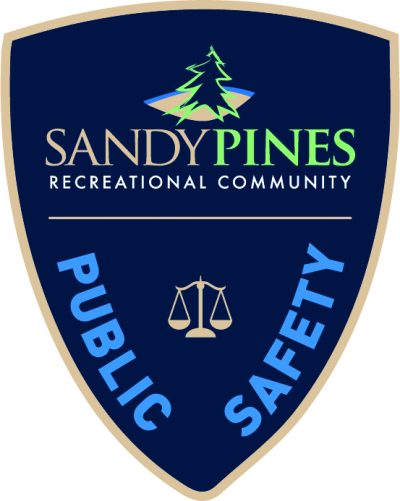 August Public Safety Update
By: Keith Garvelink Director of Security Services
Service Call Report
In June of 2019 Security Services had 117 calls for service.  The call types and numbers appear below.
Disorderly Person:  3
Domestic:  1
Controlled Substance Violation:  2
Motorist Assist:  1
Conduct Violation:  2
General Assistance:  14
Minor In Possession:  1
Medical:  7
Larceny:  3
Neighbor Dispute:  1
Damage to Property:  11
Suspicious Incident/Person:  12
Parking Complaints:  2
Animal Complaint:  2
Lost/Found Property:  3
Traffic Violation:  4
Mental:  2
Illegal Entry:  11
Boat Violation:  7
Reckless Driving:  1
Assault, Assist Other Agency:  1
Fire:  1
Health and Safety:  2
Noise Complaint:  2
Misc. Rule Violation:  10
Check Wellbeing:  1
Sex Offender Investigation:  1
Careless Operation:  2
Trespass:  1
Alcohol Violation:  1
Property Damage Accident:  1
Malicious Destruction of Property:  2
Boating Noise Level Rules
The Sandy Pines Handbook states in section XIII, F. 1. That "Boat owners must observe boat safety rules and regulations by the State of Michigan and the U.S. Coast Guard."
Those rules include maximum noise levels on Lake Monterey.  The State law for Michigan regarding noise levels from boats is as follows.
A boat cannot exceed 90 decibels three feet from the stern while the engine is at an idle or exceed 75 decibels when measured from shore then the vessel is on plane.
These rules are enforced on Lake Monterey by Security Services.  Staff who patrol the lake will make checks on boats regarding sound levels periodically using a decibel meter.
Overflow Parking in Phase 6
Security Services has been taking considerable parking complaints in several phases, including Phase 6.  Per the Handbook, the following is defined as overflow parking for Phase 6.  "Perimeter areas across from site D-049 to D-121 and D-161 to D-167 not to exceed father than 30 feet from the roadway."
Persons have been parking alongside other vehicles in this area on the berm.  That is prohibited by rule and will be enforced.  Another reminder regarding overflow parking is that boats and trailers may not be stored overnight in any of the designated overflow parking areas.
Illegal Entries
Security Services investigates numerous complaints where one person attempts to access an entry point into the park, but is not granted access.  In many occasions, a person waiting behind the person attempting entry will then use their card to scan the person in.  This prohibited by rule and also inappropriate.  In some cases, the card access of the person who is not able to scan in has been shut off for reasons including conduct violations.  Please do not scan others into the Park with your card.  Another consequence of this is that card being used to scan the person in will be automatically disabled when the system detects more than one entry at a time.
Security Services also requests the assistance of Members in preventing unauthorized access into our park.  If you see a suspicious entry, please call the PSO Office at 616.896.9006, and the incident will be investigated.
Entry of persons into the Park to perform work
A question recently arose regarding access given to persons wishing to enter the Park to perform work, and whether a guest pass is needed.  For review, here the rules regarding that.
If a company or person is not a registered contractor with the Park, a guest pass is required and the Member must be present when the work is performed.  If the person is a registered contractor with the Park, a guest pass is not required and the work can be performed without the Member being present.
Another question arose regarding companies who are  just making a delivery into the Park.  Security Services does not typically require a guest pass for a simple delivery, but does request the Member contact us in advance to advise of the delivery, and what company is making the delivery.  The company making the delivery should be advised to report the Main Station, and we will direct them from there.